Biography Willem de Clercq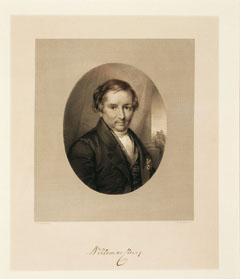 Willem de Clercq was born on 15 January 1795 into a wealthy, Mennonite merchant family in Amsterdam. After his fourteenth birthday, he began his social career in the family business as a dealer in grain. In 1824, De Clercq became secretary of the recently established Nederlandse Handel-Maatschappij (Netherlands Trading Society) in The Hague. Later, as director of this society that moved its office to Amsterdam in 1831, he would for a long period hold a key position in the networks of the Dutch economy.
He performed his work with diligence and great commitment. However, according to the exciting reports of what he experienced on his business trips to distant countries, he had a wide range of interests that were not limited to the world of trade. He was an avid reader and already at a young age he was renowned for his talent for improvised poetry. If someone gave him a topic, he could improvise on the spot an excellent poem of hundreds of lines verse and his audience would hang on his every word. Also at a young age, he wrote a celebrated article on the influence of foreign literature on that of his own country. It was the first comparative literature study in the Netherlands. In this regard, he referred to an astonishing number of literary and scientific works from at home and abroad.
Throughout the rest of his life, De Clercq would report in detail on everything he read – and that was virtually everything of any importance. Moreover, well informed as he was, in his diaries De Clerc provides unique, first-hand information about people, situations and trends in the Netherlands of his day.
The reveil movement
In the early 1820s, De Clercq came into contact with Isaac da Costa (who was from the same generation as De Clerq) and others from the circle surrounding Willem Bilderdijk. Their way of thinking made a great impression on him and he grew into one if the leading men of the Réveil. This religious movement was strongly opposed to the Enlightenment that, according to the men and women of the Réveil, showed a tendency to banish God from society and the hearts of people. For the rest of his life, De Clercq would continue to wrestle with the question of how to combine a personal experience of the divine with life in a modern society. As early as 1818, after reading Goethe's Dichtung und Wahrheit, he reached the conclusion that a diary should not only be an objective depiction of events but also a subjective report of one's own feelings, joys and concerns.
This made it possible for the diary of Willem de Clercq to become one of the most important testimonials of his time. It allows us to get to know an intelligent observer of events in Dutch society who is also a forthright and open observer of his own emotions. And last but not least, we see a witness for faith that for De Clercq always remained the most important source of his inspiration.
For more information go to: Literature.