ALEID, Countess of Holland, also known as Aleid of Avesnes (born before 1234 – diedbetween 1 March and 7 April 1284), guardian of Floris V. Daughter of Floris IV (1210-1234), Count of Holland, and Machteld of Brabant (c. 1200-1267). In September 1246 Aleid of Holland married Jan I, Count of Avesnes (died 1257). The couple had 7 children.
Marriage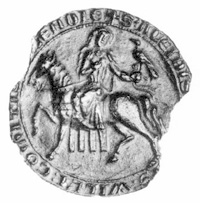 Aleid of Holland's marriage to Jan I of Avesnes must be seen as a strategic move on the part of her brother, Count Willem II, in the anti-Flemish coalition binding Holland with Brabant and Hainault. Jan I was the son of Countess Margaretha of Flanders and Bouchard of Avesnes; their marriage was later annulled. Margaretha married again and the children from her second marriage eventually succeeded her in Flanders. In 1246 the question of succession was settled by arbitration, and Jan was recognized as the successor in Hainault, but he wanted to be accepted as such in Flanders as well. To gain support for his claim, he married Aleid to establish ties with the Count of Holland.
Guardian
After the premature death of her brother Willem II, Aleid became the tutor and guardian to his son, Floris V. Meanwhile a widow, she had returned with her children to Holland. In 1258 she began to care for four-year-old Floris V, even though his mother was still alive. She also saw to it that he was given a good education, and was probably the one who commissioned Jacob of Maerlant to write, as part of Floris's schooling, Alexanders Geesten (Alexander's Deeds) about Alexander the Great, the exemplary ruler who in Maerlant's book appropriately bears the arms of the counts of Holland.
The attitude of the House of Holland to her husband's family, the Avesnes, had meanwhile changed, however: in 1256 Aleid's brother, Count Floris de Voogd (the guardian), had become reconciled with Aleid's mother-in-law, the Countess of Flanders. This reconciliation involved all sorts of measures to ensure that the Avesnes family would never again wield any power in Holland. Those opposed to Aleid's guardianship of Floris V turned to Otto II of Gelre, who resolved to use force to gain custody of the boy. Otto captured Dordrecht, and Aleid, still with Floris V in her charge, was forced to retreat to Zeeland. After losing a battle in Zeeland, on 22 January 1263 she was deposed by Otto of Gelre and robbed of her widow's inheritance. Otto took on the wardship until 1266.
Influence
Not long after Floris V started to rule independently in 1266, he entered into an agreement with Aleid regarding her widow's inheritance. According to Melis Stoke, he also asked his aunt for advice now and then. It was undoubtedly due to Aleid's influence that one of her sons, Floris of Avesnes, was able to acquire considerable power: too much power, in fact, because in 1277 the Avesneses, Aleid included, were expelled from Holland by Floris V. A reconciliation followed in 1282.
After Floris's son died without issue in 1299, Aleid's eldest son, Jan II of Avesnes, Count of Hainault, acquired the County of Holland. Thus in the end her marriage did prove to be the basis for a personal union between Holland and Hainault. Aleid, who had died in 1284, did not live to see this, however. She was buried alongside her husband Jan in the Dominican monastery at Valenciennes.
Foundations
Following in the footsteps of her mother, Machteld of Brabant, Aleid also founded and patronised religious institutions. Aleid's will, drawn up in 1271, bears particular witness to her affinity with mendicant orders and beguinages. Indeed, the executors of her will included two mendicant friars. Aleid made bequests to what most likely included every existing convent and beguinage in Holland and Zeeland at that time. Her most important bequests were the legacies left to her mother's foundation – the Cistercian convent in Loosduinen – and to the beguines in Schiedam. Later on she made extra donations – in addition to the bequests stipulated in her will – to the beguinages in Haarlem and 's-Gravenzande. Aleid owned a lot of property in Schiedam and was most likely not only a benefactor but also the founder of the beguinage there. The city of Schiedam also has Aleid to thank for the parish church, the hospital and its municipal charter.
Reference work(s)
Van der Aa; Chalmot; Dek Holl.; Kobus/De Rivecourt; Kok; NNBW; Verwoert.
Bibliography
F.W.N. Hugenholtz, Floris V (Bussum 1966).
P.A. Henderikx, De oudste bedelordekloosters in het graafschap Holland en Zeeland. Het ontstaan van bedelordekloosters voor ca. 1310 te Dordrecht, Middelburg, Zierikzee en Haarlem, alsmede enige aspecten van de plaats van deze kloosters in het stedelijke leven en daarbuiten gedurende de middeleeuwen (Dordrecht 1977).
F.W.J. Koorn, Begijnhoven in Holland en Zeeland gedurende de middeleeuwen (Assen 1981).
Florence W.J. Koorn, 'De graven van Holland en Zeeland en de begijnenbeweging', Spiegel Historiael 18 (1983) 438-443.
D.E.H. de Boer, E.H.P. Cordfunke and H. Sarfatij ed., Wi Florens...: de Hollandse graaf Floris V in de samenleving van de dertiende eeuw (Utrecht 1996).
D.E.H. de Boer, E.H.P. Cordfunke and H. Sarfatij ed., 1299: de vereniging van Holland, Zeeland en Henegouwen (Hilversum 2000).
Illustration
Seal of Aleid of Henegouwen, governess of Holland. From: Corpus Sigillorum Neerlandicorum. De Nederlandsche zegels tot 1300, 2 volumes (The Hague 1937-1940) 528.
Author: Florence W.J. Koorn
last updated: 13/01/2014