ANNA PAVLOVNA (born St Petersburg, 19 January 1795 – died The Hague, 1 March 1865), Queen of the Netherlands by marriage. Daughter of Paul Romanov (1754-1801), Tsar of Russia (1797) and Maria Feodorovna (before her marriage Sophie, Duchess of Württemberg, 1759-1828). Anna Pavlovna married Willem Frederik George Lodewijk, Prince of Orange-Nassau (1792-1849), the later King Willem II, on 21 February 1816 in St Petersburg. The couple had 4 sons and 1 daughter.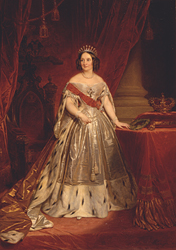 Anna Pavlovna was the youngest daughter and the eighth of ten children born to Tsar Paul I and Maria Feodorovna. When Anna was six years old, her father – said to be mentally ill – was killed in a military coup. Her brother Alexander, who took part in the conspiracy, succeeded him. After this her mother avoided St Petersburg, staying with her youngest children in Gatchina and Pavlovsk, more to the south, and at Tsarskoe Selo, her summer home. It was here that Anna Pavlovna and her two younger brothers, Nicholas (1796-1855) and Michael (1798-1849), grew up. The three of them founded the 'Triopathie' to mark their close relationship. Each wore a ring as a symbol of this bond, and they made their mother an honorary member by presenting her with a ring.
Anna Pavlovna had a Swiss governess, Louise de Sybourg (called Bourcis), who gave her an all-round education: Anna could read, write and speak fluent Russian, German and French, and also received lessons in mathematics and natural science. She painted for relaxation, and also embroidered historical scenes on chairs, folding screens and fire-screens. Paintings by her hand hung in the palace of Pavlovsk, and a number of chairs with her embroidery have been preserved.
Anna carried on a lively correspondence with her mother and brothers, who exerted a great deal of influence on her, even after her marriage. She was very fond of her eldest brother, Tsar Alexander (1777-1825), and even fonder of Nicholas, his successor, he and Anna being on an equal footing because of their shared youth. After her mother's death in 1828, Anna came to depend on Nicholas: he was her ally and confidant, and showered her with presents. Of Anna's sisters, only two were still living by the time she married: Maria (1786-1859) and Catharina (1788-1819). She got along well with Maria, but less so with Catharina, especially after the latter's marriage to Wilhelm of Württemberg. These strained relations were the reason for Anna's later dislike of her daughter-in-law Sophie, Catharina and Wilhelm's daughter.
Marriage to Willem II
As Grand Duchess of Russia and sister of the tsar, Anna Pavlovna was a desirable match. After such candidates as the Emperor Napoleon, the Duke of Berry (pretender to the French throne), Archduke Ferdinand and the British Duke of Clarence had been rejected for various reasons, Tsar Alexander spotted the Crown Prince of Orange in 1815. An exchange of letters between Alexander and Willem I paved the way for the toast – in the inn 'La Belle Alliance' near Waterloo – to a 'splendid union of states and families'. The marriage could not take place, however, without Anna's consent. Tsar Peter the Great had stipulated that no Romanov could marry without the partners having met each other beforehand and agreeing to the alliance. Crown Prince Willem therefore had to travel to St Petersburg 'on approval', and even though Anna considered herself of higher birth than the Prince of Orange, the meeting was satisfactory to both of them and the marriage contract was subsequently drawn up. Anna received a dowry of one million roubles, her father-in-law promising to pay five per cent interest on the amount. In a separate document it was agreed that their children would be given a Protestant upbringing. Anna, however, remained true to her Russian-Orthodox faith. On 21 February 1816 the Walloon minister De la Saussaye confirmed in accordance with the Protestant liturgy the marriage ceremony performed according to Russian-Orthodox ritual in the White Hall of the Winter Palace in St Petersburg.
In August 1816 the couple arrived in the Netherlands; Anna's retinue included Bourcis, her governess. They took up temporary residence in the 'Huis van Huguetan' on the Lange Voorhout in The Hague, since the palaces intended for them – the Hague palace on the Kneuterdijk and Soestdijk Palace – were in need of thorough renovation. Anna was particularly pleased with Soestdijk Palace, which had been presented to Willem on the recommendation of the States General for his meritorious service in the Napoleonic Wars. Anna Pavlovna, with her sense of grandeur and status, cultivated Willem's 'Waterloo past'. The huge painting by J.W. Pieneman of The Prince of Orange at the Battle of Quatre Bras (1824) was given pride of place in the hall that has been known ever since as the Waterloo Hall.
Owing in part to the discord between Willem and his father, the couple preferred to stay in Brussels, where at first they had at their disposal the 'Hof van Brabant', but were given the use of a new palace after the fire in 1820. Anna revelled in Brussels court life, whose exuberance – in stark contrast to the sober life in The Hague – reminded her of St Petersburg.
In the 1820s, Anna's life was dominated by her children. Her eldest son, Willem, was born on 19 February 1817 in Brussels. Three more sons were born at Soestdijk Palace: Alexander (2 August 1818), Hendrik (13 June 1820) and Casimir (21 May 1822, a sickly infant who died four months later in Brussels). Her only daughter, Sophia, was born on 8 April 1824 in The Hague. The upbringing of her eldest son, the heir to the throne, posed problems for Anna. She worried about him a great deal, and reproached him for 'inferior tastes and dissolute behaviour'. From veiled remarks in her letters, it appears that she attempted to steer him clear of trouble: 'there are some developments in the direction we desire'. Her favourite son, Alexander, had a weak constitution and died in 1848 – before the age of 30 – on Madeira, where he was undergoing treatment for tuberculosis. Throughout her life Anna had a close, untroubled relationship with Hendrik and Sophia.
The year 1829 marked the beginning of difficult years in Anna and Willem's marriage. When nearly all of Anna's jewels were stolen in Brussels (a large part of them were later recovered), she became so overwrought that she accused Willem of involvement in the theft. This was typical of the picture she had come to have of her husband: he had the wrong friends and was running up huge debts. She remained loyal to Willem, however, in the first years of the Belgian Revolt (1830-1839), when he had serious differences of opinion with his father about their course of action. Anna supported her husband whenever possible, trying to iron out difficulties and foster understanding for his position. When he was accused of duplicity and forced to withdraw for a time to Willemsdorp near the Moerdijk, Anna joined him there with their eldest son: '[I'd] rather [share] a hut with my Willem than subscribe to dishonour.'
Queen and queen-mother
After Willem I's abdication on 7 October 1840, the inauguration of Willem II took place on 28 November in the Nieuwe Kerk (New Church) in Amsterdam. Anna described the ceremony in detail in a letter to her brother Nicholas. Beneath his royal robe Willem wore a dark blue uniform, identical to the one he wore during the Ten-day Campaign (1831). Anna was wrapped in an outer garment of silver cloth trimmed with ermine, beneath which she wore a cloak of gold cloth, likewise trimmed with ermine, and underneath, for warmth, a dress of silver lamé.
Anna saw to it that court life became more regal. Despite her distant and sometimes haughty attitude, no doubt a result of her upbringing, she was very much caught up in Dutch society. She had learned Dutch from the court tutor, Arie van der Spuij, and spoke the language better than her husband, with whom she usually communicated in French. While still Crown Princess she had been firmly devoted to 'the people', having established 'charitable committees' in Soest and Baarn. In 1832 her support was instrumental in founding the Royal Winter Sewing School, intended to provide instruction in needlework to destitute women and girls. During the Belgian Revolt, she used her own money to found the Willemhospitaal in The Hague, devoted to the care of wounded soldiers. She herself visited the hospital and cared for the wounded. After the death of her mother-in-law, Anna bore the costs of the 'mothers' societies' she had founded. Names like 'Anna Pavlovna School' and 'Sophia School' still recall her contribution to the founding of such institutions.
Anna's position as queen made it impossible for her to air political opinions, but her correspondence shows that she was well informed about Dutch and European politics. The diaries of Baron Mackay van Ophemert – her former chamberlain, who was appointed vice-president of the Council of State in 1862 – also reveal that she took a great interest in politics and had very decided opinions.
In March 1849, Willem became seriously ill. Anna and her son Hendrik travelled to Tilburg, where they were present at Willem's death on 17 March. His body was taken to Delft for burial. In accordance with the prevailing custom, Anna did not witness his interment in the royal vault. In a letter written on 20 April to Tsar Nicholas, she described her visit to his tomb several days later. She was so despondent that she no longer wished to live in the palace on the Kneuterdijk. She withdrew from public life, and took up residence at Boschlust, the house once occupied by her son Alexander, who had died in 1848. Later she went to live for a time at Biljoen Castle near Velp.
Willem II left his wife nothing but debts. With the Tsar's approval, Anna used the proceeds of the sale of part of her Russian property to enable her to keep Soestdijk, her 'Waterloo Palace'. Willem's collection of paintings was lost to the Netherlands. Most of the art collection, which had served as collateral for a loan Tsar Nicholas had extended to Willem, disappeared to St Petersburg, where it still forms part of the collection of the Hermitage.
Last years
Anna Pavlovna grew lonely at the end of her life. Relations with her son Willem (meanwhile King Willem III) remained strained. She once remarked how 'fortunate' it was 'that he was the sovereign of a constitutional monarchy'. In 1855 a conflict over the awarding of the Military Order of William I became so fierce that Anna decided to leave the country and return to her family in Russia. Nevertheless, she sided with him unconditionally in his unhappy marriage to Sophie of Württemberg, whom he had married against her wishes in 1839. Anna once called her daughter-in-law an 'arrogant and cunning wife, his scourge here on earth'. Anna was very close to her children Hendrik and Sophie, both of whom lived abroad. Hendrik, who was married to Amalia of Saxe-Weimar-Eisenach (1853), was stadholder in Luxemburg on behalf of his brother. From 1853, Sophie was Grand Duchess of Weimar, through her marriage in 1842 to Karl Alexander, Grand Duke of Saxe-Weimar-Eisenach, the son of Anna's sister Maria.
Anna Pavlovna died on 1 March 1865 at 4.38 pm at Buitenrust in The Hague. Her body lay in state in her Russian-Orthodox chapel on Rustenburg. On 17 March the funeral procession departed on foot from Rustenburg to Delft, where Anna was interred in the royal vault. In her will she left Willem III a sum of money and some of her jewels. Her personal possessions went to her other two children. Her daughter Sophie inherited her Hague estates; Hendrik inherited Soestdijk Palace, where the memory of Anna Pavlovna and Willem II is kept alive by the Waterloo Hall.
Personality and reputation
Anna Pavlovna is said to have been a 'large, stately figure, strikingly Slavic in appearance, who never relaxed in public' (Japikse, 247). Her imperial ancestry had penetrated every fibre of her being, and she therefore maintained strict protocol and royal ceremony. Once the grand duchess had made up her mind, there was no changing it. Her 'Russian' temperament was to blame for her displays of emotion and outbursts of unreasonable behaviour. At times of tension, her vehemence sometimes resulted in attacks of 'nerves', which incapacitated her for days on end. On the other hand, she was an intelligent woman with a social conscience, and was sensitive and very dedicated to her family and friends. Many times she acted as a mediator between her husband and her father-in-law.
Anna was very pious and remained faithful, even after marrying, to the Russian-Orthodox Church and Russian culture. She had a chapel built in her living quarters, and financial assistance from the Tsar allowed her to keep her own parish priest and choirboys. On some high feast days she appeared in the Russian national costume. In response to these feelings, King Willem I gave her Tsar Peter House in Zaandam to mark the birth of her son Alexander, a gesture she appreciated greatly. Anna was never a popular queen, but she did not aspire to popularity. She wished to be respected for her sense of duty and her irreproachable behaviour – the high standards of conduct she demanded of herself and others, including her next of kin. Indeed, she ultimately received the respect she deserved.
Anna Pavlovna, though queen of the Netherlands, remained above all a Russian grand duchess. Her name lives on in the Noord-Holland polder named after her, located in the municipality which, since 1845, has borne the name of Anna Paulowna.
Author: H.J. de Muij-Fleurke
last updated: 13/01/2014