PETRONILLA, Duchess of SAXONY, also known as Geertruid (born c. 1082 – died 23 May 1144), Countess of Holland by marriage. Daughter of Dirk II, Duke of Upper Lorraine (died 1115), and Hedwig of Formbach (c. 1056-1085/90). Petronilla of Saxony married Floris II (the Fat), Count of Holland (reigned 1091-1121), around 1100. The couple had 3 sons and 1 daughter.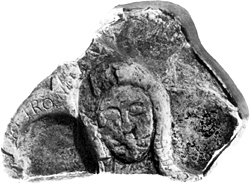 Petronilla was the eldest daughter of Hedwig of Formbach and Dirk II, Duke of Upper Lorraine. She was named after her grandmother on her mother's side, Geertruid of Haldesleben, and can be found under this name in Saxon sources. Her mother, who was previously married to Gebhard of Supplinburg (died 1075), had a son, Lotharius, from this marriage who later became Holy Roman Emperor. Petronilla thus had a powerful half-brother. As half-sister of Emperor Lotharius III she is generally referred to as Petronilla of Saxony, although she probably spent most of her youth in Upper Lorraine, which is much further south.
Petronilla was most likely educated in the manner customary for girls of noble birth, learning not only needlework and embroidery but also reading and writing. The influence of French culture meant that poetry and music were also important parts of court life around the 1100s. Reading was very important for religious education, since it enabled one to read devotional literature, such as the lives of the female saints. In later life Petronilla appears to have been very devout.
Countess Petronilla
In or shortly after 1100, Geertruid/Petronilla married Floris II, Count of Holland, who was described by a contemporary as 'exceedingly rich and corpulent'. Geertruid possibly assumed the name of Petronilla at the time of her marriage. This change of name was perhaps intended to emphasise her connection with the Holy See. Saint Petronilla, martyr and – according to legend – the daughter of Saint Peter, is considered the 'first daughter of the Church'. It is also possible that by changing her name she hoped to express her support for the Gregorian reforms then being propagated from Rome.
According to the annals of Egmond, Floris II died 'in the prime of his youth'. Above the entrance to the abbey church in Egmond, where her husband was buried, Countess Petronilla had a tympanum constructed on which she and her young son Dirk VI are portrayed on either side of Saint Peter. The text reads, 'Here prays Dirk, Petronilla beautifies this work'. The tympanum is now preserved in the Rijksmuseum in Amsterdam.
Politics
After her husband's death, Countess Petronilla became extremely active in political and religious circles. In the period 1123-25 she supported her half-brother Lotharius by sending a military expedition to aid him in his struggle against Emperor Henry V, and in 1127 she became involved in the Flemish struggle for succession in the hope of claiming the count's coronet for her younger son Floris. She also became very involved in the home affairs of her county: this is most striking, since her eldest son had long since come of age. She did so, moreover, with 'an iron fist', according to the Egmond annals. Indeed, Countess Petronilla played an active role in every major event that took place in the period 1121-33.
In 1124, for example, she managed to have her chaplain, Ascellinus, appointed abbot of Egmond Abbey. She did this at the suggestion of several powerful nobles of the Kennemer district, who had themselves installed at the same time as the abbey's administrative directors. Incidentally, Ascellinus, a very weak leader, was forced to resign as early as 1129. When Countess Petronilla and the Bishop of Utrecht paid a visit to the convent the following year, they were shocked by what they found. All construction work on the new abbey church had ground to a halt, and the damage – both material and spiritual – was enormous. It is interesting to note the part played by the countess in this affair: the bishop sought her advice in choosing a new abbot and together they sent an envoy to Ghent. The new abbot, Wouter – a man with great strength of character – was installed on 7 September 1130 by the Bishop of Utrecht. Under his leadership Egmond flourished.
In the years between 1129 and 1132, Petronilla also helped to resolve the conflict between her two sons, Count Dirk VI and his younger brother, Floris 'the Black'. The latter – described in the Egmond annals as intelligent, ambitious and charming – took up arms against his elder brother on two occasions. The first time he was supported by Petronilla, the Bishop of Utrecht and the Holy Roman Emperor (his uncle Lotharius III), and for a while he called himself 'Count of Holland' in official documents. In 1131, however, the conflict was apparently settled, for a document drawn up by Lotharius in March of that year refers to Dirk and Floris as the 'Count of Holland and his brother'. Evidently Floris was unable to accept the new situation, because in August 1131 he again rebelled. This time he did not have his mother's support and was forced to flee to the territory of the rebellious West Frisians, where he remained for a year. Once again a peaceful agreement was reached through the offices of his uncle, the Holy Roman Emperor.
Floris the Black then set his sights on Utrecht, where he planned to marry Heilwive of Rode, a rich heiress related to the Bishop of Utrecht. However, an old family quarrel triggered a heated conflict that led to the murder of Floris during a hunting party in the autumn of 1133.
Founding the convent of Rijnsburg
Countess Petronilla did not occupy herself solely with Egmond; at the beginning of the 1130s, her religious enthusiasm led her to found a new convent in Rijnsburg, part of the count's territory. On 15 September 1133 the abbey church was consecrated by the Bishop of Utrecht. Petronilla donated all her property in Rijnsburg to the convent, as well as possessions in Delft, Leiden, Noordwijk and Aalsmeer. She recruited nuns from the Convent of Stötterlingenburg in East Saxony. That convent, which had been reformed shortly before according to the ideas of Cluny, was famous for its rich spiritual life. Shortly after the consecration of the abbey church of Rijnsburg, Petronilla's beloved son Floris the Black was laid to rest there.
Little more was heard of the countess. In 1140 in Rome, her son Dirk put the abbeys of Egmond and Rijnsburg and all their goods and chattels under the protection of the Holy See. It is possible that, following the death of her son, Petronilla withdrew to her new convent at Rijnsburg, where she was buried after her death on 23 May 1144.
A remarkable woman, Countess Petronilla greatly influenced the political events of her day. She sometimes made errors of judgment, the worst being her unfortunate choice of abbot for Egmond Abbey, a choice which had serious consequences. Indeed, the Egmond monk who documented the lamentable episode wrote disparagingly, 'the female sex easily allows itself to be influenced'. But the mark that Petronilla left on the events of her day bears undeniable witness to her strong personality.
Reference work(s)
Cordfunke.
Bibliography
E.H.P. Cordfunke and F.W.N. Hugenholtz, Gravin Petronilla van Holland. Holland in het begin van de 12e eeuw (Zutphen 1990).
F.W.J. Koorn, 'Van "coniunx" naar "comitissa". Een onderzoek naar de positie van de gravinnen van het Hollandse huis', in: C.M. Cappon et al. ed., Ad fontes. Opstellen aangeboden aan prof. dr. C. van de Kieft ter gelegenheid van zijn afscheid als hoogleraar in de middeleeuwse geschiedenis aan de Universiteit van Amsterdam (Amsterdam 1984) 153-166.
G.N.M. Vis, 'Petronella de Flinke. Gravin Petronella van Holland en de voogdij over het klooster Egmond in de jaren 1121-1130', in: Marco Mostert et al. ed., Vrouw, familie en macht (Hilversum 1990) 181-193.
Illustration
Fragment of gravestone of countess Petronilla, from the abbey of Rijnsburg (Ned. Herv. church in Rijnsburg).
Author: E.H.P. Cordfunke
last updated: 13/01/2014