RUYSCH, Rachel (baptised The Hague, 3 June 1664 – died Amsterdam, 12 October 1750), still-life painter. Daughter of Frederik Ruysch (1638-1731), professor of anatomy and botany, and Maria Post (1643-1720). Rachel Ruysch married Jurriaan Pool (1666-1745), painter, on 12 August 1693 in Amsterdam. The couple had 10 children.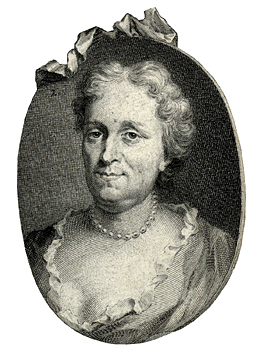 Rachel Ruysch was a granddaughter of Pieter Post, the master builder who worked for the court of the House of Orange in The Hague, where family members from both her mother's and her father's side were recruited to work for the court and the government authorities. Some held official positions, while others contributed to entertainment and public relations by providing such things as poems or paintings.
An artistic environment
Rachel Ruysch was born in The Hague, but the family moved to Amsterdam when she was still a baby, because her father had agreed to lecture in anatomy there. Frederik Ruysch became a renowned anatomist, owing particularly to his development of a method of embalming, whereby he was able to make anatomy attractive even to a layman. The children's bodies he embalmed were so lifelike that one would swear they were merely asleep. He assembled his preparations and put them on display, along with various other 'curiosities' that included all kinds of rare insects and plants. His collection became one of the tourist attractions of Amsterdam. Visitors could admire his compositions of allegorical scenes, in which the skeletons of foetuses were placed on 'rocks' of kidney and bladder stones and set amidst blood vessels inflated to look like tiny trees.
Rachel was the eldest child of Frederik Ruysch and Maria Post. As a little girl she had shown an aptitude for drawing and painting, a talent undoubtedly inherited from her mother's side of the family, among whom were several artists. Of these, her grandfather, the architect Pieter Post, was the most famous. There was also his brother, the painter Frans Post, known for the landscapes he painted during (and after) the years he spent in Brazil with Prince Maurits of Nassau. Rachel's uncles, Jan and Maurits Post, drew and painted as well. Her father, too, was a competent draughtsman. He made drawings of his preparations to illustrate his scientific publications, and he also indulged in painting, portraying the objects he collected: insects and reptiles, which he depicted amidst plants and trees. Such paintings had been introduced to Amsterdam by Otto Marseus van Schrieck, an artist from Nijmegen, who had worked at the royal courts of France and Tuscany. He painted snakes, snails, toads and insects lurking in dark corners between plants and shrubs. In Italy this genre was called sottobosco; in the Netherlands it was referred to as bosgrondjes, or woodland scenes.
Flowers and woodland scenes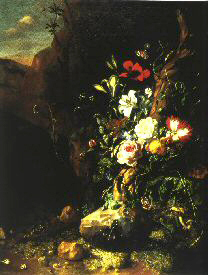 By the time she was fourteen, Rachel Ruysch was painting animals and plants with such enthusiasm, diligence and skill that her parents gave her permission to study with a painter. For a girl this was not unheard-of, but still highly unusual. Otto Marseus had died in the meantime, so Rachel was apprenticed to Willem van Aelst, who was considered the best still-life painter in Amsterdam. Van Aelst was an acquaintance of Otto Marseus (with whom he had worked in his younger years at the court of the Medici in Florence), and he belonged to her parents' circle of friends.
Under Van Aelst's supervision, Rachel Ruysch began by concentrating on woodland scenes such as those Marseus had painted. Like her father, she worked with great precision and subtlety. After painting the main lines of a composition and waiting for the paint to dry, Rachel took a very fine brush and added insects, blades of grass and tiny flowers. She strove to render her subjects as true-to-life as possible. When depicting woodlands she used small sponges, dipped in paint, to indicate the structure of moss. Sometimes she even used real moss (as Marseus and Van Aelst had done) to make imprints. In her paintings she combined plants and animals that did not naturally occur together. She did not paint from nature, but from models found in her father's collection.
Apart from woodland scenes, she specialised in compositions with flowers, such as those painted by Van Aelst and Jan Davidsz de Heem. Her flower paintings also depicted 'composed' bouquets, based on specimens from the botanical gardens (where her father lectured in botany) and on preserved flowers from her father's collection. Normally speaking, flowers were preserved by pressing and drying them between paper, but Frederik Ruysch could prepare flowers in such a way that they continued to look as if they were in bloom. This method of preservation enabled Rachel Ruysch to paint bouquets composed of flowers that bloomed in different seasons. She depicted them so faithfully that she soon made a name for herself. In the second half of the seventeenth century, flower paintings became increasingly fashionable and Rachel Ruysch profited accordingly.
Court painter
In the summer of 1695, Johann Wilhelm, the Elector Palatine, visited Frederik Ruysch's museum. On that occasion he undoubtedly saw paintings by Rachel, who had meanwhile married the painter Jurriaan Pool. She had just given birth to her first child, but motherhood did not prevent her from continuing her career as a painter, whereas her younger sister Anna, likewise a gifted painter, had stopped painting when she married. Rachel had meanwhile become very successful. She was paid substantial sums for her flower still lifes, and in 1699, in recognition of her work, she was asked to become a member of the Hague painters' confraternity Pictura. She was the first woman to receive this honour.
Rachel was given commissions by wealthy clients and could thus concentrate on painting only a few works per year, devoting several months to each. Orders had to be placed a long time in advance. In 1708 she was offered the post of court painter to the Elector Palatine. By now the mother of a large family, she was reluctant to go and live in Düsseldorf, and was therefore exempted from her Residenzpflicht, the obligation to live and work at court. This was not a unique construction: Adriaan van der Werf and Jan Weenix were also appointed court painters without having to make their homes in Düsseldorf. Rachel Ruysch received an annual stipend, for which she was required to make only one painting a year for the collection of the Elector and his wife.
She travelled to Düsseldorf a couple of times to deliver her work, but she continued to live in Wolvenstraat in Amsterdam with her husband and numerous children. Even though she was almost 30 when she married, she gave birth to ten children, the last of whom, a boy, was born when she was 47. She named him Jan Willem, after her patron, and the Elector and his wife declared their willingness to act as godparents. When Rachel went to Düsseldorf to show them the child, Johann Wilhelm presented her son with a costly medallion on a red ribbon. To Rachel he gave a dressing-table with a 28-piece silver toilet-set, in a decorative toilet-case, as well as six silver sconces.
In the spring of 1711, Rachel received a visit from the German scholar Zacharias Conrad von Uffenbach, who described her as a woman of forty, cultured but not very pretty. He had the good fortune to view two recently completed paintings, one of flowers and one of fruit. They were reserved for Pieter de la Court van der Voort, a cloth merchant from Leiden, who paid 1,500 guilders for them, a sum many times greater than the average annual salary. Von Uffenbach thought them splendid, 'with exceptionally delicate brushwork'. Jurriaan Pool maintained that his wife's brushwork surpassed that of all masters past and present. At the time of Von Uffenbach's visit, Rachel was working on two small square panels for Cosimo de' Medici, Grand Duke of Tuscany and father-in-law of the Elector, for which she received additional payment. Von Uffenbach said that Rachel was painting the ground of these two pieces, and that 'she sat there like a painter'. He further reported that she had 'all kinds of birds' nests, insects and suchlike lying around her'.
Jurriaan Pool was commissioned by the Elector to paint Rachel's portrait. He turned it into a family picture, painting Rachel and himself with Jan Willem, showing the medallion he had been given by the Elector. Completed in 1716, it was already packed and ready to send when they received news that the Elector had died. Ruysch thus lost her patron, but there was no need to despair, because she continued to receive more commissions than she could handle. After 1723 the family no longer had any financial worries. In the lotteries held by the States of Holland, Jurriaan and Rachel had won two hundred guilders in 1713, but in December 1722 they and their son George bought a lot for ten guilders and won the first prize of 75,000 guilders.
George was not to enjoy his winnings for long. He died three years later at the age of 25. This was the second adult son that Rachel Ruysch and Jurriaan Pool had lost in recent years. In 1720 their 22-year-old son Abraham had gone as an assistant in the service of the Dutch West India Company (WIC) to Guinea, where he died shortly afterwards. Three other children had died at an early age, and in 1718 their daughter Rachel died at the age of fifteen. At the beginning of 1731, the couple lost their only remaining daughter, 35-year-old Maria Margaretha, leaving them with three sons.
Their eldest son, Frederik Ruysch Pool, continued to live at home; in 1734 they agreed to let him sell his mother's paintings. Frederik and the youngest son, Jan Willem, showed 'good and Christian behaviour', but Rachel did not get along with Isaac, her second son, who ran a draper's shop in Gasthuissteeg. In 1743 she concluded 'not without the deepest sadness that her son Isaac Ruysch Pool persisted in his irresponsible behaviour and treatment of his parents'.
Final years
In October 1745, Jurriaan Pool died at the age of 79. The discord between Rachel and her son Isaac continued until just before her death. It was not until 1749 that she could say that 'the friendship between her and all her children was now completely restored'. All this time she had continued to paint. Like her father, who lived to be 92, she carried on working as long as she could. Rachel was in her eighties when she was shown a flower piece by Jan van Huysum, in which he had depicted the flowers against a bright background. Until then dark backgrounds had been used to suggest depth, but by painting more colourfully, Van Huysum was able to work with a brighter background. Rachel liked this arrangement 'so much that she immediately tried it out herself'.
The painters' biographer Johan van Gool met Rachel in 1748, when she was 84. 'For a woman of such a ripe age', he records, she had kept 'her mind and her appearance wonderfully well'. She received him very kindly and politely, told him about her career, and showed him some of her work. Most of her paintings had been sent abroad, but she showed him a painting started the year before, which she still hoped to finish.
In 1750 she was presented with a collection of Dichtlovers voor de uitmuntende schilderessen Mejufvrouwe Rachel Ruisch (Poems for the excellent painter Mistress Rachel Ruysch), a collection of verses that had been written about her work over the years. It was a unique gesture: never before had a Dutch artist been honoured in this way. Rachel Ruysch died that year on 12 October.
Reference work(s)
Van der Aa; DWA; Elck zijn waerom; Houbraken; Kramm; Lexicon Noord-Nederlandse kunstenaressen; NNBW; Scheen; Thieme; Van Gool; Wurzbach.
Archives
Gemeentearchief Amsterdam: Notariële archieven, protocols by notary public L. van Gangel (5777, 2-6-1723, 26-8-1723), notary public A. Tzeeuwen (7648, 21-8-1730; 7677, 8-11-1737; 7685, 7-10-1739; 7688, 16-3-1741; 7691, 18-3-1743), notary public Jan Ardinois (9131,14-3-1737). See also Abraham Bredius, Künstler Inventare 4 (The Hague, 1915-1922), 1203-1209.
Works
For a list of works, see Berardi (1998).
Bibliography
Arnold Houbraken, De groote schouburgh der Nederlandtsche konst-schilders en schilderessen (The Hague 1718-1721).
Dichtlovers voor de uitmuntende schilderesse mejufvrouwe Rachel Ruisch (1750).
Johan van Gool, De nieuwe schouburg der Nederlantsche kunstschilders en schilderessen (The Hague 1750).
Zacharias Conrad von Uffenbach, Merkwürdige Reisen durch Niedersachsen, Holland und Engeland 3 (Frankfurt 1753).
M.H. Grant, Rachel Ruysch (Leigh-on-Sea 1956).
Werner Timm, 'Bemerkungen zu einem Stilleben von Rachel Ruysch', Oud-Holland … (1962) 137-138.
Jaromir Sip, 'Notities bij het stilleven van Rachel Ruysch', Nederlands Kunsthistorisch Jaarboek 19 (1968) 157-170.
Eddy de Jongh, Still-Life in the age of Rembrandt (Auckland 1982).
Erika Gemar-Költzsch, Holländische Stillebenmaler im 17. Jahrhundert (Lingen 1995).
Paul Taylor, Dutch flower painting 1600-1720 (New Haven 1995).
Marianne Berardi, Science into art. Rachel Ruysch's early development as a still-life painter (Pittsburgh 1998).
Kunstschrift (2000) [special issue on Rachel Ruysch].
Luuc Kooijmans, De doodskunstenaar. De anatomische lessen van Frederik Ruysch (Amsterdam 2004).
Illustrations
Print (detail) by A. Schouman after J. Houbraken. From: Van Gool, De nieuwe schouburg der Nederlantsche kunstschilders en schilderessen.
Rachel Ruysch, Tree-stump with flowers. Oil on canvas 98,8 x 82,5 cm. Signed and dated, 1685 (Museum Boymans-van Beuningen, Rotterdam). From: Elck zijn waerom. Vrouwelijke kunstenaars in België en Nederland 1500-1950, Katlijne van der Stighelen and Mirjam Westen ed. (Amsterdam 1999).
Author: Luuc Kooijmans
last updated: 13/01/2014