TINNE, Alexandrine Pieternella Françoise (born The Hague, 17 October 1835 – died near Ghat, Libya, 2 August 1869), explorer and pioneering photographer. Daughter of Philip Frederik Tinne (1772-1844), diplomat and entrepreneur, and Jonkvrouw Henriëtte Maria Louise van der Capellen (1796-1863). Alexine Tinne never married.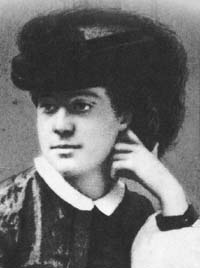 Text biography not yet available in English.
Reference work(s)
Van der Aa; NNBW.
Archives
Nationaal Archief, The Hague: Archief De Constant Rebecque, 3de afdeling, inv.nrs. 217-249, documents relating to Alexine Tinne and her journeys, including the diaries of Oostman and Jacobse [inv.nrs. 239 and  240].
Koninklijke Bibiliotheek, The Hague: CEN 79 D 40, letters from Tinne to Von Heuglin, 1863-1864.
Works
Photographs by Alexandrine Tinne (The Hague, 1860-1861) are preserved in Haags Gemeentearchief (The Hague). See also Moritz (1990).
Bibliography
J.A. Tinne, 'Geographical notes on expeditions in Central Africa by three Dutch ladies', Transactions of the Historical Society of Lancashire and Cheshire (Liverpool 1864).
Th. von Heuglin, Die Tinnesche Expedition im westlichen Nil-Quellgebiet, 1863 und 1864 (Gotha 1865) [geographical, anthropological and biological entries from the diary].
Th. Kotschy and J. Peyritsch, Plantae Tinneanae sive descriptio plantarum in expeditio Tinneana ad flumen Bahr-el-Ghasal… (1867) [about the botanic materials collected and drawn by Alexandrine Tinne in the Gazellen River area].
J.A. Tinne, 'Herinneringen aan freule Tinne', De Aarde en haar Volkeren (1872).
N.W. Posthumus, Freule Tinne, de Nederlandsche reizigster door Afrika (The Hague 1874).
D. Arnauld, 'Assasinat de mademoiselle Tinne par les Touareg', Journal de Voyages 339 (1884).
William Sutherland, Alexandrine Tinne: een Haagsch meisje als dappere ontdekkingsreizigster en dochter der liefde (Bint Mtacke) in Noord-Afrika. Haar leven en reizen (Amsterdam 1935).
Johannes Lodewijk Walch, 'Alexandrine Tinne', in: Idem, Vrouwen van formaat (Amsterdam 1941) 256-288.
Clara Eggink, De merkwaardige reizen van Henriette en Alexandrine Tinne (Amsterdam 1960; reprint 1976).
J. Brummelkamp, 'Alexandrine Tinne', and D.G. Jongmans, 'Clara Eggink's visie op freule Tinne', Tijdschrift van het KNAG 2 78 4 (1961) 353-365 (two reviews of Clara Eggink, De merkwaardige reizen ...).
Penelope Gladstone, Travels of Alexine, 1835-1869 (London 1970).
M. van der Mast, Alexine Tinne. Reizigster door Afrika (The Hague 1974).
J.G. Kikkert, Een Haagsche dame in de Sahara. Het avontuurlijke leven van Alexandrine Tinne 1835-1869 (Naarden 1980; reprint 2005).
Wolf Kielich, Vrouwen op ontdekkingsreis. Avonturiersters uit de negentiende eeuw (Amsterdam 1986).
Arja H. Snoek, Een cultuurhistorische visie op de reizen van Alexandrine Tinne (s.l. 1988) [MA thesis Universiteit Utrecht].
Ben Moritz, Alexandrine Tinne, fotografe van het eerste uur, 1861 (The Hague 1995) [about Tinne as photographer].
Francis King, Wonderen. Het avontuurlijke leven van Alexandrine Tinne, een Nederlandse ontdekkingsreizigster in de woestijn (Amsterdam 2002) [novel; originally published in English under the title Prodigies (London 2001)].
Wilfried Westphal, Tochter des Sultans. Die Reise der Alexandrinne Tinne (Stuttgart 2002).
Illustration
Undated photograph. From: Moritz, Alexandrine Tinne.
last updated: 16/11/2014