VLIEG(H)EN, Eva, also known as Besje Meurs (born Meurs, Nordrhein-Westphalen, c. 1575 – died after 1628), attracted interest as a miracle of fasting. As far as we know, Eva Vliegen never married.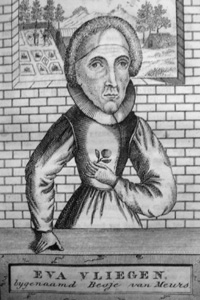 The extraordinary life of Eva Vliegen is related in various contemporary sources. Sickly from an early age, her health problems are blamed by some sources on a wicked stepmother who denied her food, while others mention a mother who cared for her into adulthood. All agree, however, that she grew up in poverty and was forced to tend the pigs.
In the year 1594 – she was then nineteen – Eva Vliegen began to eat less and less, and from 1597 she took no nourishment whatsoever. In 1599, when she was persuaded to eat a single cherry, she became so ill that she nearly died. It was said that she lived from the fragrance of flowers. Eva herself maintained that every other day at sunrise she was surrounded by a glittering light and her mouth was moistened by a honey-sweet substance. She also predicted the future. These miracles brought her great fame, and many, including Prince Maurits, paid her a visit. At the same time, though, she aroused suspicion. The local minister – Eva was Protestant – took her into his own home for twelve days, to keep a close eye on her, but afterwards he became a staunch champion of Eva's miraculous fasting. The Meurs town council issued certificates declaring that her life without food was not a hoax and that many people could testify to it.
A pamphlet printed in 1614 related that an angel had appeared to Eva to announce that God was going to punish humankind with 'widespread death', because He could no longer bear the sins of the world. From that moment on she supposedly refused to speak, and maintained this silence until her death on 1 March 1614. In 1628, however, she was discovered to be alive, according to a report drawn up by the physician Nicolaes van Wassenaer. Food and drink had apparently been found in her house, and she was subsequently arrested. Her eventual fate is unknown.
Eva Vliegen, nicknamed Besje Meurs, owes her fame in the Netherlands mainly to the fact that for centuries a wax figure of her was exhibited in the Amsterdam Doolhof (labyrinth). A mechanism enabled the waxwork to wipe the crumbs from its mouth with its arm, to the accompaniment of a rhyme:
This old crone is Bessie Meurs, most faithless of females
She shakes her head, ay, swears an oath, while spouting her tall tales:For two and thirty years, she says, she's eaten not a crust,She tells a string of barefaced lies, her words you cannot trust.
Dat is Bessie van Meurs, dat leugenachtig wijfEi zie, zij schu(d)t haar hoofd, en zweer(t) nog even stijfIn 32tig jaar heeft zij geen brood gegetenWel 't leugenachtig wijf, liegt dat de stenen zweten.
Reference work(s)
Van der Aa.
Bibliography
Een waarachtige bescrhijvinge van het groot mirakel en teecken des Heeren, het welcke geschiedt is binnen de stadt van Meurs, al waar God sijnen enghel ghesonden heeft aen een jonghe dochter, ghenaemt Jefken Vlieghen… (Amsterdam 1614) (= Knuttel Pflt. 2140).
Nicolaes van Wassenaer, Historisch verhael aller ghedenckwaerdiger gheschiedenisse die in Europa, als Duytslandt, Vranckrijck etc., van den beginne des jaers 1621 voorgevallen sijn 5 (Amsterdam 1629) 64.
Jacobus Revius, 'Opt bedriegelijck vasten van Eva Vliege', in: Idem, Overijsselsche sangen en dichten (Deventer 1630) 288.
Ron van Deth and Walter Vandereycken, Van vastenwonder tot magerzucht. Anorexia nervosa in historisch perspectief 1 (Meppel 1988) 78-81 [vol.  2, 132-137, gives many references to publications on Eva Vliegen: see nrs. 3, 4, 16, 27, 48, 66, 80 and 90].
Willem Frijhoff, De wegen van Evert Willems. Een Hollands weeskind op zoek naar zichzelf, 1607-1647 (Nijmegen 1995) 398-405.
Illustration
Print, published in 1611 by André Jansen, bookseller in Zutphen. Letterpress: 'Pourtraict a vif d'Eva Vliegen de Meurs'. From: F.W.S., 'Eva Vliegen van Meurs', Almanak voor Blijgeestigen 7 (1832).
Author: Els Kloek
last updated: 11/06/2014